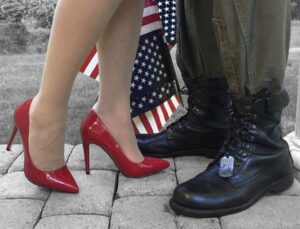 When you said, "I Do," to a man in combat boots, did you know what you were getting into?
Active Duty
There are 1, 107,000 Dependent Military Spouse .
56% of service members are married.
6% of service members are in dual-military marriages.
Reserve Force
47% of reservist duty members are married.
2.5% of reservist duty members are in a dual-military marriage.
More than 1/2 of military spouses have some form of college education
The Navy has 43% and the highest percentage of military spouses employed.
The Air Force has 18% and the highest percentage of spouses who are service members.
Being a Military Wife is one of the hardest Thankless jobs around. It's a Lifestyle, like no other, can you relate to the poems below?
The Silent Ranks
I wear no uniforms, no blues or greens.
But, I am in the military, in the ranks rarely seen.
I have no rank upon my shoulders. Salutes I do not give.
But in the military world is where I live.
I am not in the chain of command, orders I do not give or get.
But my husband is the one who does, this I can not forget.
I am not the one who fires a weapon, Who puts his life on the line.
But my job is just as tough, I'm the one who is always left behind.
My husband is a patriot, a brave and pride filled man.
All can understand.
Behind the lines, I see things needed to keep this country free.
My husband makes the sacrifice, but so do my kids and me.
I love the man I married. The military is his life.
So I pledge to support my hero and stand among the silent ranks known as THE MILITARY WIFE.
Quiet Hero
Knowing they will bravely carry on with their life, her Strength and her courage only one understands,
He is walking away with her heart in his hands, for he knows that without it he would be lost,
But they both know freedom comes at a cost.
She walks away holding her children so close, swallowing tears for the one she loves most.
This quiet hero does not walk into war, she soldiers on behind her front door.
She will move through her life the wind at her back, determined to keep her family on track.
Her tears fall in silence while she lies in her bed, her fear is is right there but nothing is said,
She will ask that no medals be pinned to her chest, her husband's safe return her only request.
Few understand her commitment, her life, she is the quiet hero, the brave Soldier's wife.
Kathleen Mills