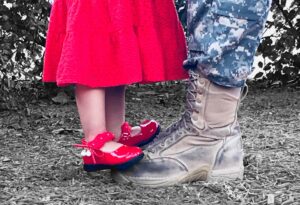 Where did the military term, "Military Brat, " come from? We could not find a clear answer to where this term originated. However, this is what we discovered:

Some think it came from 1921 British Army saying, BRAT, standing for British Regiment Attached Traveler.
Another source says the term came from a song, "The Recruiting Officer," from a play written in 1707. In the play, the recruiter offers promises that married soldiers could bring their wives and kids. One of the lines in the song uses the term, "brats and wives."

1.70 million Total-Force Military kids Worldwide. Active Duty and Reserve Forces.

Army 912,000 kids
Air Force 432,000 kids
Navy 300,000 kids
Marine 118,000 kids

Active-Duty Dependent kids 1.07 million
Ages

0-5 Years old 452,000
6-11 Years old 340,000
12-18 Years old 237,000
19-22 Years old 47,000

Guard/Reservist Dependent kids 688,000

0-5 Years old 210,000
6-11 Years old 212, 634
12-18 Years old 190,000
19-20 Years old 76,000

April is the Month that Celebrates the military child.
The Dandelion is the symbol of the Military Child-it is a plant that can put down roots almost anywhere the military child who moves from place to place and makes every location their home.
I am a Military Brat
My hometown is nowhere my friends are everywhere.
I grew up with the knowledge that home is where the heart is and the family…with no dependence on the dwelling.
Mobility is my way of life. Some would wonder about roots, yet they are as deep and strong as the mighty oak. I sink them quickly, absorbing all an area offers and hopefully, giving enrichment in return.
Travel has taught me to be open. Shaking hands with the universe, I find brotherhood in all men. Farewells are never easy. Even in sorrow comes strength and ability to face tomorrow with anticipation…if when we leave one place, I feel that half my world is left behind, I also know that the other half is waiting to be met.
Friendships are formed in hours and kept for decades. I will never grow up with someone, but I will mature with many. Be it inevitable that paths part, there is constant hope that they will meet again.
Love of country, respect, and pride fill my being when Old Glory passes in review. When I stand to honor that flag, so also do I stand in honor of all soldiers, and most especially, to the parents whose life created mine: because of this, I have shared in the rich Heritage of Military Life.
Resource List Specifically for Military Brats
Military Brat Registry http://www.militarybrat.com/